REVOLVE TECHNOLOGY
Zenagen Revolve is an easy-to-use hair loss treatment with unique products for both men and women. The Revolve system offers an efficient hair loss solution for male and female pattern baldness, post pregnancy hair loss, chemotherapy hair loss, and other common types of hair shedding and thinning.
WHAT IT IS:
A topical, botanically based hair loss treatment that stops female and male pattern baldness, female pattern baldness and thinning hair at the source. Zenagen contains no minoxidil and is formulated with powerful nutraceuticals and anti-aging ingredients that remove DHT, the hormone that causes hair loss.

HOW IT WORKS:
The Revolve system treats male and female pattern baldness with a multi-action process that combats DHT, the hormone that causes 95 percent of pattern baldness. Formulated with antioxidant green tea and other naturally derived nutraceutical ingredients, the two-step system works conveniently in the shower and takes only 5 minutes, 3 – 4 times per week.
Proprietary blend of nutraceutical ingredients penetrates into the dermal layer where hair loss occurs.
Cleanses and removes DHT from the hair follicle to stop hair loss at the source.
Blocks future production of DHT to prevent thinning hair and shedding.
Helps follicle grow back thicker, fuller and healthier.
No minoxidil, parabens or SLS.
No alcohol, harsh irritants or drying chemicals.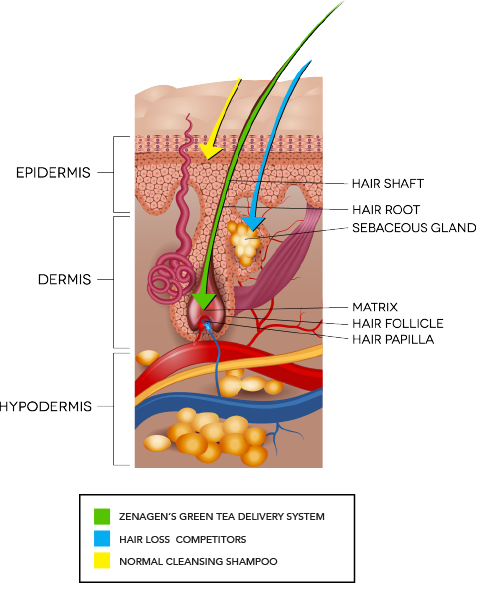 DHT & ZENAGEN'S DEFENSE
•
= DHT
DHT PRODUCTION
Testosterone is converted to DHT (Dihydrotestosterone) which builds up in the hair follicle matrix causing 95% of hair loss in men and women.

DHT BUILD UP
The build up of DHT causes hair folicles to thin and slowly die.

DHT CLEANSE
Zenagen's natural ingredients not only cleanse and remove existing DHT build up, but also block future production of DHT topically.


WHO SHOULD USE IT:
Women and men of all ages can safely use the Revolve system, even if they are not experiencing visible hair loss, as it helps prevent thinning hair. We recommend that all men and women use Revolve to prevent future hair loss.
Revolve is formulated especially for:
Men and women of all ages with signs of pattern baldness or visible hair loss/recession
All men and women who want to prevent future hair loss

HOW TO USE IT:
The two-part system features a shampoo treatment and conditioner. Apply the shampoo treatment to scalp and hair and allow it to penetrate for a full five minutes. Rinse thoroughly. Apply conditioner and leave on hair as desired. Rinse. Use the system 3 – 4 times per week for best results.